Regular price
$169.75 USD
Regular price
$299.85 USD
Sale price
$169.75 USD
Unit price
per
Sale
Sold out
🌎 FREE SHIPPING WORLDWIDE 🌎   
✔ 100% money back guarantee.
✔ Processing time>>shipping within 72 hours after payment .
First 1000 pieces at the lowest price of USD $199.89, get it while discount lasts!
Precise, long-range and safe, introducing the new fully automatic Gel Ball Launchers!
INTRODUCTION OF AAC HONEY BADGER TOY GUN - GEL BLASTER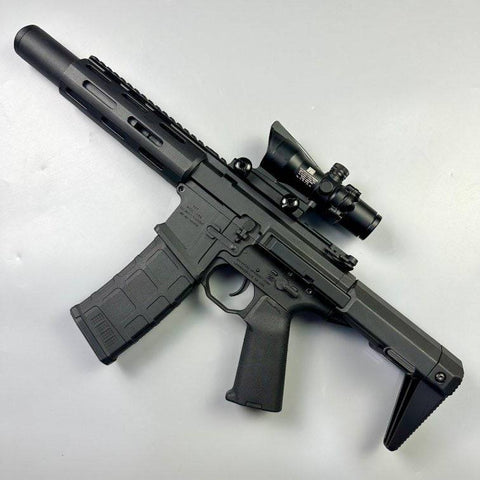 AAC Honey Badger is a short-barreled rifle (SBR) chambered in .300 AAC Blackout.
It is known for its compact size, lightweight design, and high level of customization. I
t was designed by Advanced Armament Corporation (AAC), a company that specializes in the design and manufacture of silencers, firearms, and related accessories.
The Honey Badger is designed for CQB (close-quarters combat) and is popular among military and law enforcement personnel.
AAC Honey Badger gel blaster is a replica toy gun that fires gel beads as ammo, also known as gelsoft. It is modeled after the real-life AAC Honey Badger SBR and is popular among enthusiasts of the sport of gel blasting.
Gel blasting is a recreational activity similar to airsoft or paintball, but uses gel beads as the projectile instead.
The gel blaster version of the Honey Badger is highly sought after due to its unique design and reputation for being a reliable and customizable blaster.
DETAIL OF AAC HONEY BADGER TOY GUN - GEL BLASTER
Adjustable stock:
Blow back system
FEATURES OF AAC HONEY BADGER GEL BLASTER TOY GUN
Nylon body
Blowback feature
Sintered carbon steel gear
SHS high quality bearings
Carbon piston
Aluminium alloy tube
Split nylon receiver
MagPul MOE grip
480 Motor
Mag Prime
3 modes: safe, single and full auto
PDW adjustable buttstock
PERFORMANCE OF THE HONEY BADGER GEL BLASTER
Firing range: 65 ft
Speed: 230-250 FPS
INCLUDED WITH THE AAC HONEY BADGER GEL BLASTER 
gel blaster
magazine
gel balls bottle
gel balls
glasses
11.1v battery and charger
INSTRUCTION OF THE AAC HONEY BADGER GEL BLASTER
The HL-015 is already assembled.
Charge the battery.
Prepare the gel balls as requested.
Load the gel balls into the magazine and insert the magazine into the blaster.
Make sure the safety switch is in the "safe" position before firing.
Pull back the slide or pump action to prime the blaster and make it ready to fire.
Aim the blaster at your target and press the trigger to fire.
Always wear proper eye protection and use caution when handling the gel blaster.
When finished using the blaster, make sure to unload any remaining gel balls and clear the barrel before storing the blaster.
WHY ORDER ON GELBLASTERGUN ?
There are several reasons why someone might choose to order from a specific website. Some reasons could include:
Convenience:

 

USA stock only, gel blasters specialist.
Selection:

 

The website offers a wide variety of products or services to choose from.
Trust:

 

We sell gel blasters since 2017. Provide secure payment and support.
Support:

 

Our website offers excellent customer support and assistance in addressing any concerns or issues that may arise.
Please abide by the following safety guidelines:
Adhere to the regulations set by your country and state.
Remember that gel blasters are toys and should be treated as such.
Do not use them in public spaces.
Ensure that you use the appropriate gear and protective eyewear when handling the products.
Minors may play with the products only if legal guardians allow it. 
Transport gel blasters in their original packaging.
Materials

High quality nylon case with partial aluminum ally fittings
Shipping & Returns

1.To US UK UZ NZ.....(European countries and North America):10~20 days.

2.To Asian countries:7~15 days

3.To Other countries:15~25days

Provide tracking information within 5 days after loading.
View full details